Kimberley Lye – Violin 1
An accomplished violinist and pianist with a history of performing on stage at top classical venues (The Royal Festival Hall, The Royal Albert, RAM Duke's Hall) and London nightclub venues (Café De Paris, Shoreditch House, 24:London).
Kimi dreamed of being a musician from the age of 8 and after playing violin for two months! As a student she was awarded a fine instrument loan and was appointed leader of the Hertfordshire Schools' Symphony Orchestra. Simultaneously, she led four other top orchestras of Hertfordshire, touring Barcelona and playing solo in Barcelona Cathedral and RAM Duke's Hall. Upon leaving for university she was awarded the most promising musician award and won the Joe Selo Ensemble Competition leading 'The Cabaret Quartet'.
Going on to study at RHUL with a Founders' Scholarship she graduated with a Bmus(Hons) degree, specialising in solo performance (taught at GSMD by Prof. Mark Knight), and quartet performance. Kimi has spent the last year expanding her violin playing, being commissioned to record for TV and performing at many live venues and looks forward to performing with Niche throughout the year.
Kimberley also teaches and runs www.youreventmusic.co.uk where you can hire musicians for wedding music, corporate entertainment and private events.
Antonia Pagulatos – Violin 2
Antonia began playing the violin at age 3 as a Suzuki student, then going on to study at The School for Strings in New York City. When she returned to the UK she attended Trinity College of Music London both as a Junior and Senior student studying under Robert Turrell, renowned for his orchestral and chamber work.
After leaving music college Antonia is a busy and successful recording artist working with all the major record labels -EMI, SONY BMG, Warner – for many artists (Ravi Shankar & George Harrison amongst many others) and is regularly heard as a violinist with artists on BBC Radio 2, 4 & 6. She appears on many TV programmes – such as Jools Holland, X Factor (with Tom Jones, Leona Lewis etc) and has been touring with bands (Duran Duran, Madness) and travelled the world on the World Tours of The Gorillaz, Mark Ronson to name a few. Antonia is delighted to be a part of Niche – The London String Quartet and is looking forward to a busy year!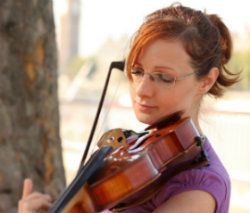 Krisztina Kiss – Viola
Initially starting as a violinist at the age of nine in Hungary, after years of experience in many orchestras and ensembles Krisztina changed to become a violist. While working with the Debrecen Symphony Orchestra she gained her Masters in music performance. After 2 years touring with the orchestra she was promoted to the post of principal viola, and went on to play viola d'amore solo with the orchestra in many festivals, theatres and concerts including Budapest's Spring Festival and live on Romanian National Radio. After relocating to London she specialised in performing with bands live, and as a session musician for studio recordings.
During 2012 Krisztina has enjoyed performing with many notable ensembles, such as the Covent Garden Musicians. As a member of Niche – The London String Quartet she particularly loves playing the modern repertoire and romantic classical favourites!
Gabs Cseke – Cello
Gabs took to music from an early age as a member of a large musical family based in Hungary. Learning cello from the age of six he gained vast experience in chamber and orchestral music as well in solo performance. As a member of a symphonic ensemble, he played in illustrious venues all around Europe, including The Royal Albert Hall. He was a returning guest of Bryanston Music School, where he played under the baton of Sir Neville Marriner.
In 2008, after finishing his studies, Gabs made the move to London. Whilst keeping to his classical roots, he branched out into other genres. Playing the cello and also the bass guitar, he has participated in live performances with many artists – most notably Gorillaz.
Currently Gabs works as a freelance London musician and has worked as a sound engineer for the past five years. As a musician with classical roots and experience in all genres and scenes, he is a truly versatile and unique player and looks forward to applying his talents to Niche's events and recordings.
Friends of Niche:
We also have a few trusted musicians that we have all worked with in the past that will kindly cover if one of us happens to be unavailable for any event. These musicians have similar grounded history of working in the best venues across the world and match our style and work ethic perfectly.
Michael Pagulatos – Deputy Viola
Taught via the Suzuki method and studying at the London Music Schools, Michael has enjoys a diverse and successful career with his viola player. He has worked with George Harrison, Ravi Shankar, Tony Allen and Damon Albarn, and recently has written an album with Nick Manasseh which will be released later this year. Michael arranged and recorded strings for Lou Rhodes' album "One Good Thing" and also various tracks for Oh Land. Michael is currently involved in a project with Nathan 'Flutebox' Lee and plays in his band 'The Clinic'.